Starting in 2019, the primary means of identifying Standardbreds is with a BioThermal microchip implanted in the nuchal ligament on the left side of the horse's neck. This will be completed at the same time as when the USTA ID Technician pulls hair for DNA testing. For foals, this can be done as early as 10 days of age. The option of freeze branding is still available for those that wish to pay an additional fee for the service.
Frequently Asked Questions
What is a BioThermal microchip?
The BioThermal technology built in to the microchip allows you to not only scan with a microchip reader to identify the horse, but the reader will also display your horse's body temperature as well. The biothermal microchip uses a radio-frequency identification implant that does not have a battery or transmit a signal. The microchip is located by using a microchip scanner which generates an electromagnetic field that energizes the microchip to transmit the microchips identification number.
Is there an additional fee to microchip my horse?
For foals of 2019 and thereafter, the fee to microchip is incorporated in the registration fee. All horses with an existing freeze brand can have a microchip implanted for a fee of $35 each.
Will all horses need to be microchipped?
By 2022, all horses that are racing in the US will need to be microchipped. All USTA member tracks, including county fairs, will identify horses with a microchip. All horses that have been previously freeze branded and that plan on racing in 2022 and beyond must be microchipped by a USTA ID Technician.
Will pari-mutuel racetracks have readers? What about the county fairs?
Yes, all USTA extended pari-mutuel race tracks have readers to identify your horse. The county fair officials that will be responsible for identifying horses will need to make sure that they purchase a reader.
What if I want my horse freeze branded instead of a microchip?
Those that choose to continue to ONLY freeze brand their foals can request that service in advance and the USTA ID Technician will do so. The fee is $75 per horse and can be paid to the USTA ID Technician by credit card when they come to your farm. This is in addition to the normal registration fee and covers the cost of microchipping later to the new owner. If you select to have your horse freeze branded AND microchipped at the same time, a fee of $40/hd instead of $75/hd will be required, due to a savings in travel expenses. It is important to mention that before the horse races in 2022 and beyond, the horse will need to be microchipped.
Where do I look to see if my horse has a microchip already and where does it go?
You can look up your horse in Pathway or on the free Horse Search by name or registration number to see if a microchip number has been assigned to your horse. The microchip is implanted on the left side of the horse's neck, mid-way from the poll to the withers.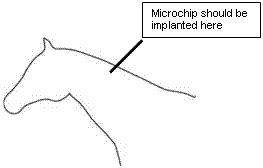 When will my horse need to be microchipped and DNA typed? How do I get that done and what is the turnaround time?
Microchipping (or freeze branding) and DNA typing are completed at the same time and can be done as early as at 10 days old. If you are importing a horse from another country with a microchip already implanted, the USTA ID Technician still needs to come pull hair for DNA typing and to connect the microchip to the horse's USTA records.
To contact the USTA ID Technician in your area, click here.
Once the lab receives the DNA sample from the USTA ID Technician, it typically takes 5-10 business days to complete the testing.
Without permanent identification and parentage verification, a horse's registration papers cannot be mailed, ownership cannot be transferred and the horse will not be issued eligibilities to race. This applies to both new foals and to horses imported from another country.
Are there concerns with the microchip moving around after implant?
No! At one time, the glass-enclosed microchips were prone to movement when implanted in the tissue. Today, the provider has solved this problem with their patented Bio-Bond® process. Our microchips are encased in a micro-capsule made of bio-compatible material. The Bio-Bond® enables the animal's tissue to permanently anchor the microchip at the desired anatomical site. Merck/HomeAgain microchips stay where they should, for the health of the animals and for reading convenience.
How can I purchase a microchip reader?
Through our partnership with Merck/HomeAgain, we are able to offer microchip scanners to our USTA members. The Bluetooth model is $279 and a smaller, standard unit is $69. Purchases can be made by contacting USTA Member Services or by logging in to your USTA MyAccount, choosing Online Services from the black navigation bar, then selecting "Click here to view products available from the USTA Store".
What does the Bluetooth reader do?
The Bluetooth reader will communicate with your phone via the USTA ChipID app (available for free on both the App Store® and Google Play® ). The app will automatically translate the horse's microchip number to display the horse's basic information (name, registration number, year of foal, color, sex, etc.) on your phone
USTA ChipID


Quick Tips for Using the USTA Chip ID App:
Make sure the Bluetooth on your phone is enabled/turned on (this is found in your phone settings)
Press the main button on the Bluetooth scanner to turn it on
Open up the USTA Chip ID app and make sure you are logged in, using your USTA MyAccount/Pathway log-in
Wait until the app says you are connected to the Bluetooth scanner

If it doesn't connect, go to your Bluetooth settings and look for the scanner you are currently using to make sure it says "Connected". You can only be connected to one Bluetooth scanner at a time and a scanner can only be connected to one phone/app at a time
If there is a "Syncing Data" pop up stuck on the screen, try one of the following:

Force close the app
Turn off your phone and restart
Delete the app and download it again (this will require you to re-set up the app)

Put the Bluetooth scanner up near the horse's withers, press the button continuously while you slowly move towards the horse's poll along the crest of the neck
Once the scanner vibrates/beeps, the microchip is read, and the number and horse's temperature will appear on the scanner. The horse's information will simultaneously appear in the USTA Chip ID app (microchip number, name, registration number, year of foaling, color, sex and sire-dam)
Setting up your Bluetooth scanner for the first time (PDF)
Setting up and managing Stables within the Chip ID App (PDF)
What are the benefits of microchips?
There are multiple reasons that microchips are a superior means of identification. Here a few:
Microchips, in general, offer a faster/more efficient and less stressful means of identification from a farm visit standpoint
Ideal for both young and pregnant stock
Makes preventive care easier
Protects the identity and health of your high-value animal
Ideal for monitoring temperature during and after surgery or a procedure where minimal disturbance is desired
Alerts owner to possible sub-clinical indications of potential infectious diseases
Rectal readings can take several minutes; the Merck/HomeAgain microchip can measure a temperature in only a few seconds
Provides a safe, unobtrusive way to uniquely identify individual animals
Provides a less stressful way to alert owners of health problems through temperature sensing (EHV-1)
Merck has agreed to partner with the USTA, for free, a lifetime subscription of their HomeAgain rescue services. They have a proactive network of veterinarians, rescue facilities and volunteers who are immediately notified in an attempt to help locate lost animals. They maintain owner contact information by proactively prompting owners to update it during the annual membership renewal process and through other member communications. This may be deemed desirable for horses that are in need of rescue or connected via our Full Circle program.